Cosgrove's Birth
04-07-2017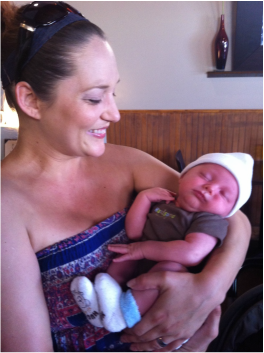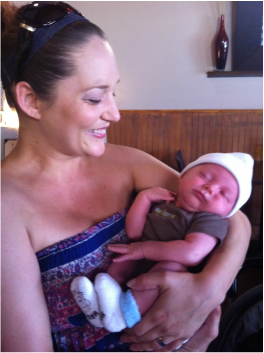 From the moment I decided to have a child, I knew I wanted to have a water birth.  I thought this could only be done at the hospital or a birthing center.  After further research, I found out I could also have it in the comfort of my own home.  This is what I wanted.  My husband, on the other hand, was skeptical about my safety.  After watching the documentary, The Business of Being Born, which I think every expectant mother should watch, he was on board.  We did decide to have prenatal care at the Health Center as well in case of having to be transferred to the hospital.  I then began the search for a midwife.  Susanna's website was one of the first I came across.  She seemed to have the most experience of all the midwives,  having pioneered water births in the States, written a book, and with many deliveries under her belt.  When I first met her, I knew almost instantly she was the midwife for me.  She was warm and bright.  And I could tell she had a passion for what she did.  It was a match made in heaven.  We started my prenatal care that same day.  I had already been going to the Health Center for a couple months.  And the prenatal visits were as different as night and day.  Susanna would spend 1 to 2 hours with me, as opposed to 10 to 15 minutes at the Health Center.  She was very thorough, covering nutrition, chiropractic care, my husband, and my emotional state.  She was armed with a wealth of knowledge.  I learned so much during those visits.  I could see she knew what she was doing and decided to give her 100% of my trust.  I gave her full rein and let her be my guide to what was going to be one of the most beautiful experiences of my life.
My water broke at 7:30 in the evening, at which time I called Susanna.  She told me to take a hot bath, relax, eat well, and rest as much as I could for the night to come.  At midnight the pain set in.  Tom got up and began to set up the tub.  There is so much anticipation when your pregnant to begin labor, but as soon as I felt the pain I immediately welcomed another week of pregnancy.  I had expected to have a long labor, as many first-time moms experience.  Nothing is what you expect it to be.  My Aunt arrived, shortly followed by Susanna.  I remember feeling so relieved to see her come through the door.  One of the things I appreciated the most about my experience with Susanna is her asking me how I wanted my birth to go.  What I needed from her.  How I needed her to be with me during labor.  This she executed to a T.  I didn't need to be cuddled or have a gentle hand.  I needed someone to be firm and straight forward.  Susanna is a very gentlewoman, so I feel she stepped out of her comfort zone to give me what I needed.
Right out the gate, my contractions were a minute apart.  Susanna sent me and the hubby out for a walk for about 30 minutes, having me squat during the contractions to help get the baby to drop.  At 5 cm. dilated I got in the tub and quickly moved to being fully dilated.  It all happened so quickly that the assistant midwife had not yet made it to the birth.  This was going to be my most challenging minutes to come, to not push when every part of my body was telling me to push.  I could wait no longer, my little man was coming.  I remember letting out one scream on my first push.  Susanna looked at me firmly and told me to get a GRIP.  She told me I was not going to scream.  I was going to use that energy and push it down and get that baby out.  It was exactly what I needed to hear.  Tom got in the tub.  I laid back in his arms and with three more pushes, my beautiful baby boy came out and was immediately put in my arms.  Leo arrived and 5:30 am.  It was a moment of pure bliss.  Followed by a cold feeling and severe shaking.  Little had I known that I had started bleeding a little too much for comfort.  Susanna jumped into action get the cord cut and directing my Aunt to put the camera down and get the baby and tend to him while Susanna got me out of the tub and into bed where she gave me a shot of pitocin to stop the bleeding.  We were all impressed with how well she handled the situation.  Leo was quickly brought back to my arms and to my breast.  By this time the assistant had arrived and was by my side showing me how to get Leo to latch.  After I birthed the placenta and I cleaned up a bit, they gave Tom, Leo and I time to lay in bed together and bond.  The next time I left the room my home had been cleaned, tub drained, and put away and breakfast made for us.  I had not expected all that to be done for us.
Susanna came every day for the next week for my postpartum care.  And continued to visit for weeks to come.  She went over and beyond for us with her postpartum care.  She was there for me answering any questions and concerns that I had.  When I felt alone or fearful, she was there for me.  I felt, and still feel, that I can go to her for anything,  getting her full attention when I need it most.  I truly feel that my birth went as smoothly as it did due to her care.  She is so dedicated to her field.  In my eyes, she is like the salt of the earth.  I feel that I not only have a wonderful midwife but now beautiful friend in my life.   I could not thank her enough.