Baby Lila
02-06-2013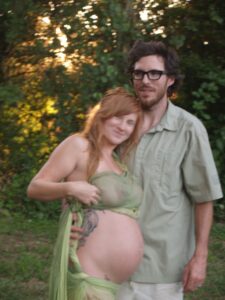 When I began my journey of becoming a mother for the second time, it was 8 years after I had given birth to my first child. I felt similar emotions that I had when I found out I was pregnant for the first time: excitement, anticipation, empowerment, as well as fear of the unknown. As I began to search for a midwife I spoke to a few, but was still waiting to feel a sense of relief in choosing a midwife. As I spoke with Susanna on the phone I immediately felt at ease and knew in my heart that she would be with me through every stage of my pregnancy.
During my prenatal care I was able to speak openly with Susanna about everything that was happening in my life. She helped me by answering any questions I had about pregnancy, birth, and post-natal care. Every time we met, not only did I feel confident that the baby was healthy and growing properly, but I also felt comfort in my special relationship that was forming with my midwife. She was there in every moment I felt I needed her. And always called me back promptly. Her advice and encouragement came from a place of genuine love and care for being a part of this amazing birth process that I called my own.
About a week after my due date I went into what's considered to be false labor. Susanna came over immediately. She checked my labor progress frequently and finally, at a very odd hour we both accepted that this baby was not ready to come out. I was able to rely on her to stick around till morning, just in case anything changed. Knowing she was there helped me rest with ease, even though I was waiting with great anticipation. Low and behold, a few days later I went into labor… my daughter was TWO weeks late!!!! I went into a deep primal place within myself through my labor, for the most part, I wanted to be left alone. Susanna respected my wish, however insisted on giving me medical attention to ensure that both me and the baby were safely progressing towards birth. As I got closer to birthing, I remember Susanna gently reminding me to deepen my sounds, rather than come from a place of fear vocally (these are my words, she didn't say that) and find the strength within to help get the baby out. She breathed with me and supported me in the exact way that I needed her too.
As the miracle of my child came into the physical world and out of my womb, I was able to hold her in disbelief that I had jut given birth to a perfect child. Susanna checked to make sure she was 100% in good health, fulfilling her duty as midwife.
After the birth, my hormones took over, giving me ease in the pain I had felt throughout the process of labor and child birth.  Excitement kicked in full force. Susanna stayed with me for hours, offering food and to answer any questions that came up for me or my partner, and even my son. Once she was able to tell I was in great physical health and had my husband to help properly monitor and care for me, she left with graciousness. Over the next few days I received frequent calls from her to simply check in, along with weekly visits to check on all of us, baby, me and the rest of the family. Throughout this whole process Susanna made sure I was completely nourished and communicated clearly that her main priority was to help me have the best experience possible in ever way.