Unique Homebirth Experiences
Susanna, with decades of experience in homebirth, is rooted in traditional midwifery practices which are strengthened by modern medical science. She is a pioneer of Water Birth and was instrumental in bringing the practice to the United States. Her book,
Waterbirth: A Midwife's Perspective
, is one the definitive books on giving birth in water.
"Giving birth to my son is by far the most beautiful experience I have ever had.
I became a homebirth midwife because I wanted you to experience the
same joy in bringing your children into the world."
Susanna Napierala LM
Integrated experience & techniques for an optimal homebirth experience
northbaymidwife
2020-10-18T21:48:37+00:00
My ground-breaking book, WATER BIRTH: A MIDWIFE'S PERSPECTIVE, is the definitive book for information on laboring and giving birth in the water. I helped to pioneer waterbirths in the U.S.A. in the early 1980s when there was little to no information on the subject.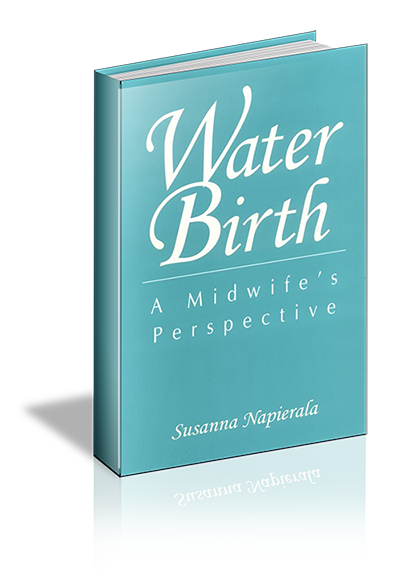 Water Birth: A Midwife's Perspective
In her carefully presented book, Susanna Napierala, midwife to more than 800 births over 40+ years, suggests that giving birth in water offers mother and infant the ideal circumstances for beginning their lives together. Recognizing that this birthing approach was not yet widely practiced in the United States, Napierala wrote about commonly-asked questions: How does the baby breathe underwater? What about complications or infections? What specifically makes water birth a viable choice, and for whom? How do a couple and their chosen midwife prepare for water birth? Avoiding ideological didactics, the author cautions that, regardless of a couple's expectations of the birth experience, every pregnancy's priority should be a healthy mother and baby. Google Book Reviews
"Susanna talked to me just in the way I needed to get me through that inner struggle.  She used a firm but kind tone with me.  She shared her birth story with me, which helped me to stop judging myself for my feelings and soothed my emotional struggle dealing with the pain.   She walked me through guided imagery.  Both of these  helped me calm down and placed me in a mindset that gave me energy to complete my birth."